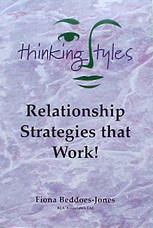 The Book
The book "Thinking Styles: Relationship Strategies that Work" is written in a highly practical way to make Thinking Styles easy to understand and use. It is an essential read for everyone who depends on developing rapport with others. Without jargon, it uses cartoons, examples and self assessment summaries to help the reader identify their own style of thinking and also gives tips on how to manage and motivate others which you can apply immediately at home or at work.
If you would like to order the book price at £9.99 (including postage), click on the button to be taken to PayPal.
What other people thought
Read some reviews of the book:
Sue Knight, International management consultant
"This book is a must for anyone who wants to learn some simple and yet immensely powerful techniques for enhancing the way that they communicate and build relations. So if you depend on effective teamwork, powerful customer (internal or external) relations or self-management then you really need to read this. By understanding the unique ways in which we each think and therefore communicate we can learn not only to accept others for who they are but also to communicate with them in ways that they will understand and accept. And we can influence others to do the same for us. Many similar books are full of jargon - this is well written, practical and straightforward. I recommend it wholeheartedly."
Dr. Peter Honey, International management consultant and expert in learning
"An easy to read, yet thought provoking, introduction to thinking styles. The book is jargon free, packed with compelling examples, and will leave you in no doubt that thinking styles are the key to improving your relationships. I guarantee it will whet your appetite and you'll want to find out more."
Dr. Sandi Mann, Dept. of Psychology, University of Central Lancashire
"It is excellent. The styles make sense, it is clearly written and ground-breaking"
Training Journal December 1999
"Presented in a very readable, clear and concise manner, bringing a number of sensory and stylistic attitudes together in one place. A useful book that will give an interesting insight into the ways people think and the resulting barriers they may raise"
If you would like to order the book price at £9.99 (including postage), click on the button to be taken to PayPal.